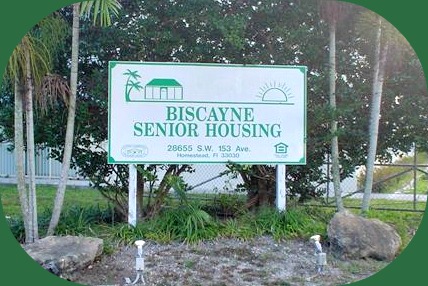 Located on a peaceful corner of 153rd Avenue in Homestead, Biscayne Senior Housing (BSH) is a 31-unit affordable housing facility for senior adults operated by Centro Campesino to meet the growing need for secure, affordable apartments.With sobering news accounts about seniors unable to find apartments affordable on a fixed income or who are living in unsafe conditions, BSH, a U.S. HUD-funded development is wonderful resource for its 35 residents. Occupants from age 62 and over are able to enjoy independent living in an easily accessible setting which offers bright, well-maintained efficiency and one bedroom apartments as well as  a common room where social, educational and community programs are offered, and outside space where residents can enjoy gardening and cookouts.

Centro Campesino provides a part-time support specialist who assists residents in making applications for programs and services, understanding correspondence, providing holiday programs and special events and dealing with emergency situations. Residents are also provided with opportunity to participate in community programs at Centro Campesino and through our partner organizations. Biscayne Senior Housing's only problem is that it is too small so that units rarely become available.
If you wish to obtain an application to get on the waiting list download it now, or contact Hector Munoz between 1:00pm – 5:00pm to (305) 246-7744 or via e-mail to hmunoz@ccfcfl.org.