Especial/el Nuevo Herald, 22 de Noviembre de 2015 02:06 PM, Actualizado 24 de noviembre de 2015 Centro Campesino De Homestead Ofrece Servicios A Trabajadores Inmigrantes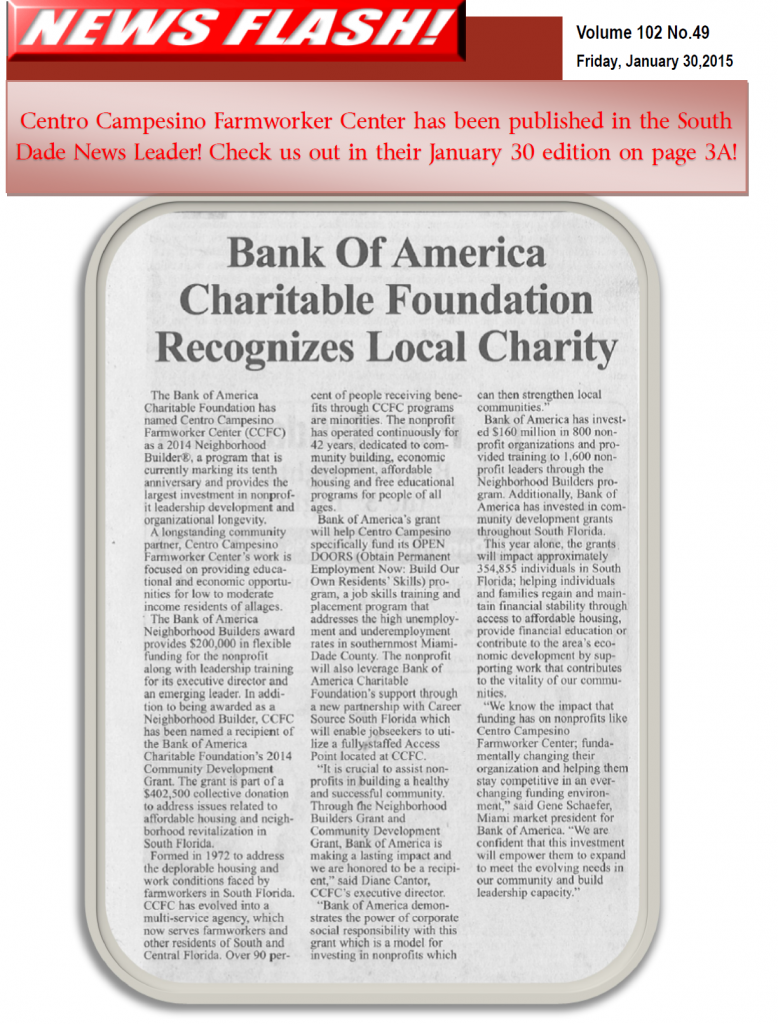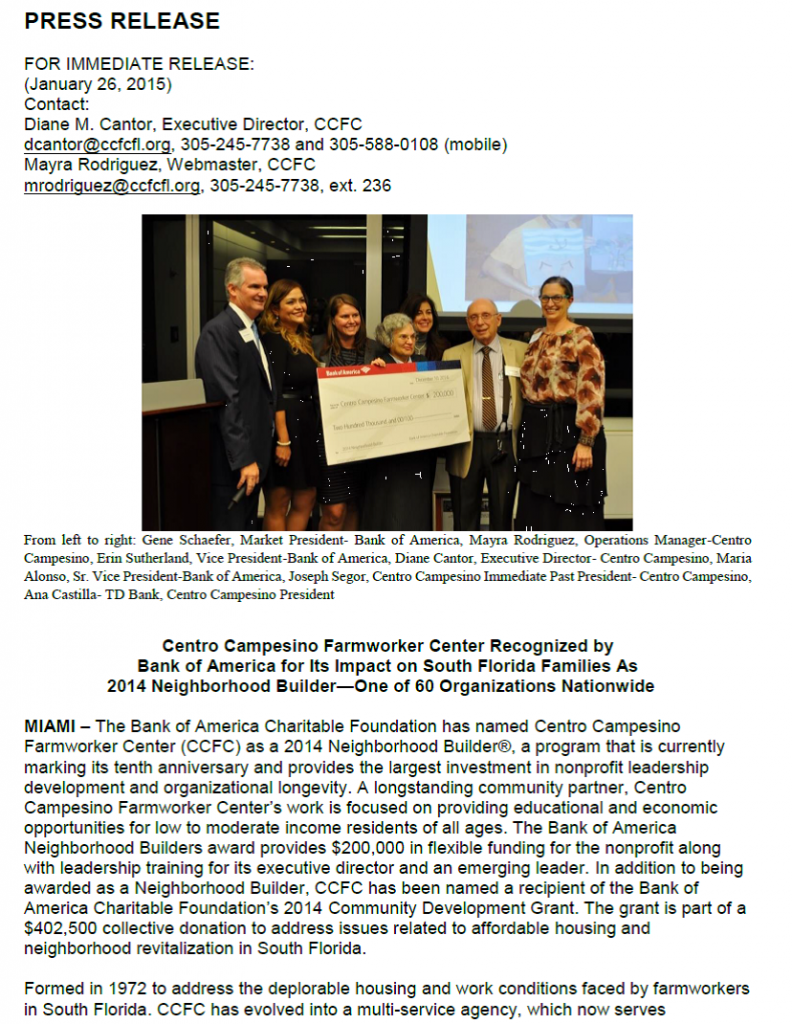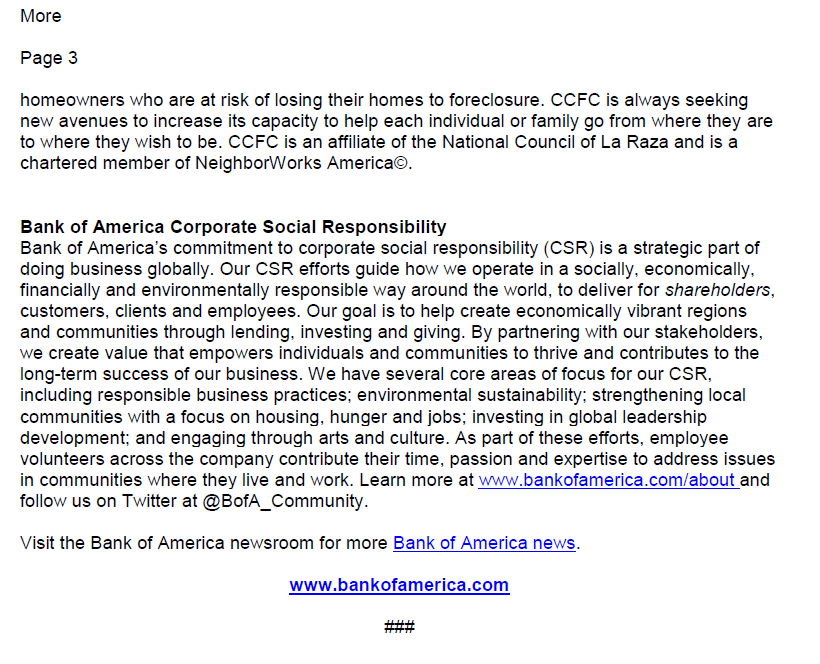 ______________________________________________________________________
FOR IMMEDIATE RELEASE
July 19, 2014
CONTACT: Ivonne Amor, 305.299.2091
ivonneamor@mail.com
HOMESTEAD MOM NOW HAS A NEW ROOF THANKS TO LOCAL BUSINESS OWNER'S SOCIAL MEDIA CAMPAIGN TO GIVE BACK TO THE COMMUNITY
T&S Roofing's Installation Celebration a Huge Success
MIAMI, FL – July 19, 2014 – Carmen Torres has a new roof over her head and on her home thanks to a South Florida company's social media campaign to give back to the community. Ironically, Torres, a single mother of 5 children and 6 grandchildren, successfully beat out other needy homeowners despite not even owning a computer!
Roofers from T&S Roofing Systems arrived to the Torres home at 18503 S.W. 355th Terrace in Homestead early this morning to remove damaged shingles and replace Torres' roof. While that was going on, friends and neighbors, employees of T&S Roofing, roofing suppliers from GAF and ABC and members from non-profit organization, Centro Campesino, celebrated in Torres yard during the "Installation Celebration". The group shared food and enjoyed music, while children jumped up and down in the bounce house.
"I couldn't sleep last night thinking this was a dream, but when I woke up this morning, the roofers were here," said Torres. "I am so excited and thankful to T&S Roofing and everyone who voted for me," she added.
Torres' 24-year-old daughter Sarail and her youngest son, 17-year-old Liborio, who live with Torres and were crucial to her win, were also among those celebrating. The celebration comes after a six-month long social media campaign, sponsored by T&S Roofing Systems and No Roof Left Behind. The company asked neighbors to nominate a deserving and needy homeowner. Five finalists were announced and the one with the highest votes was awarded a new brand new roof from T&S Roofing.
"South Florida has been good to us and we just wanted to give back to the community we love," said Louis Toledo, co-owner of T&S Roofing. Every year, T&S helps those in the community, but this event is the company's largest to date. The partnership with the nationwide No Roof Left Behind program is T&S Roofing System's way to give back to the community for ten successful years in the roofing business. The company owners, Toledo and Ernesto Sanchez, started as a small business and now apply for more roofing permits in Miami-Dade County, then any other roofer. Located at 1461 NW 23rd Street in Miami, T&S Roofing will pay all materials and labor costs for the Torres' new roof.
Torres' new roof really is a neighborhood affair. She was nominated with the help of Centro Campesino, an agency that advises and helps low-income families and farmworkers in Florida. The agency told Torres about the program and put up her nomination and request for votes on its Facebook page. Torres' daughter did the same thing. Torres then asked anyone and everyone she met to vote for her.
"All of us at Centro Campesino are delighted that T & S Roofing made this vital home improvement for the Torres family. Without it, if a severe storm hits our area, the family and the home, which means so much to them, would be in danger. Now they don't have to worry," said Diane Cantor, Executive Director of Centro Campesino.
Torres' home has needed fixing for nearly a decade. Nearly ten years ago, Hurricane Katrina damaged her roof. The powerful storm lifted the shingles of the home and rotted the wood. At the time, the damage didn't seem like much, but over time, the roof has made Torres' home difficult to live in. Now she doesn't have to worry about that.
"The power of social media is incredible and the No Roof Left Behind program proves it," said Toledo. "It's amazing neighbors made this possible by coming together and spreading the word about such a deserving family. Who wouldn't want to be a part of that!" he ended.
**Editor's Note: B-roll, interviews and photos from the event are available. Please contact Ivonne Amor at ivonneamor@mail.com or 305.299.2091 to request video and images.
About T&S Roofing Systems, Inc.
T&S Roofing Systems is the leading residential roofing company serving Miami-Dade and Broward counties. Established in 2004, the Miami roofing company services over 400 homes per year, more than any single roofing company in the Tri-County area, and proudly maintains an A rating with Angie's List and the Better Business Bureau. For more information, please visit the company's website at http://www.tsroofingsystems.com or call 305.639.7663.
About No Roof Left Behind
No Roof Left Behind is a nationwide program that gives folks in the community a way to help their good neighbors that have fallen on hard times. The No Roof Left Behind program provides a local contractor the framework to provide a new roof at no cost to a deserving homeowner in need.
About Centro Campesino 
Formed in 1972 to address the deplorable housing conditions faced by farmworkers and other low-income families in South Florida, Centro Campesino  has evolved into a multi-service agency, which also serves clients in Central Florida. Over 90% of people receiving benefits through Centro Campesino programs are minorities. Centro Campesino has operated continuously for 42 years dedicated to community building, economic development, affordable housing and free educational programs for people of all ages. For more information about Centro Campesino, please visit www.centrocampesino.org or call 305.245.7738.
__________________________________________________________________________________

FOR IMMEDIATE RELEASE:

MEDIA CONTACT:

Suzy Trutie

(305) 375-1545
MIAMI-DADE COUNTY PRESENTS CENTRO CAMPENSINO
WITH A PROCLAMATION IN HONOR OF ITS 40TH ANNIVERSARY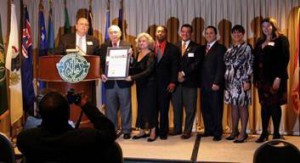 (MIAMI, December 3, 2012) – Miami-Dade County Deputy Mayor and Regulatory and Economic Resources Director Jack Osterholt presents Centro Campesino Farmworker Center, Inc. with a proclamation in honor of its 40th anniversary.  More than 100 business and community leaders attended the event at Northern Trust, including Doug Gaither of NeighborWorks America in Atlanta and Douglas McCree of the First Housing Foundation in Tampa.
Picture from left to right: Jack Osterholt, Deputy Mayor and Regulatory and Economic Resources Director, Miami-Dade County; Joseph Segor, Board President, Centro Campesino Farmworker Center (CCFC); Diane Cantor, Executive Director, CCFC; Wilfrid Pressa, Board Member, CCFC; Marco Tejada, Board Vice President, CCFC; and CCFC Board Members Ed Duarte, Melanie Garman and Cristina Lumpkin.   
Centro Campesino Farmworker Center, Inc. 
Centro Campesino Farmworker Center, Inc. (Centro) is a not-for-profit rural development organization dedicated to improving the quality of life and self-sufficiency of migrant and seasonal farmworkers, their children and other low-income families of all ethnicities and races.  Centro focuses its efforts and programs to address the following major avenues of service: rural weatherization/rehab, affordable home ownership and rentals, homebuyer/homeowner solutions regarding credit rebuilding/preparation for purchase and foreclosure mitigation, family strengthening, education, job preparation for farmworkers, community building, disaster relief, and advocacy for the rights of farmworkers.  For more information, visit centrocampesino.org or call (305) 245-7738.
# # #
MIAMI-DADE COUNTY
Stephen P. Clark Center
111 NW 1st Street, Miami, FL 33128
  __________________________________________________________________________________


Posted on Sun, Oct. 25, 2009
Learn the key to security
Done-In-A-Day Loan Modifications are possible for customers when nonprofits, banks and homeowners work together. The nonprofit serves its mission by preparing and checking each homeowner's file so that information is complete and done according to the lender's directions. At a nonprofit center such as Centro Campesino, classes are held in a welcoming setting in which it is easier to discuss the possible loss of a family home, just as it is more comfortable for a student to talk in the classroom instead of in the principal's office.
Nonprofits make it worth the bank's visit by scheduling several appointments. In one day, homeowners leave with modified payments that they have the ability to make; the lenders have performing loans instead of homes headed for foreclosure; and families get to stay in their homes.
In two months of offering Done-In-A-Day Loan Modifications, we have seen clients fall on their knees in joyful prayer when their payments are reduced by as much as $900 a month. Out of 55 loans presented, bankers approved 49 for modification, and though in some cases the modification took more than one day, it was in place within two weeks.
Family by family, one loan at a time is the only way to cure the crisis that afflicts our community. In Miami-Dade County there are already 6,597 foreclosed homes with 2,257 in the Homestead area. Centro is delighted that Chase Bank has been a pioneer in turning our Florida City office into a bank branch one day a month to assist customers who are in arrears.
To share a proven model with our nonprofit partners and welcome other banks to host a Done-In-A-Day Loan Modification event, Centro Campesino is offering Partners Preventing Foreclosure from 10 a.m. to 4 p.m. Nov. 13. Participants can choose a time that works best for them.
We will share materials and strategies and answer questions to help plan partnerships. Lenders and nonprofits can call Shirlynn Cabaleiro, manager of Homebuyer/Homeowner Solutions at 305-245-7738, ext. 233 or go to www.centrocampesino.org.
We may be meeting on Friday the 13th, but by attending, lenders and nonprofits can bring good luck to their organizations and the troubled homeowners of South Florida.
DIANE CANTOR, executive director, Centro Campesino Farmworker Center, Homestead
© 2009 Miami Herald Media Company. All Rights Reserved.
 __________________________________________________________________________