[slideshow_deploy id='181′]
Palm Villas Apartments located on Palm Drive in Florida City offers 91 units of affordable apartments with two on-site swimming pools. Due to its excellent location, families can enjoy proximity to local businesses, Florida City's new Community Center, easy access to the Florida Turnpike, shopping and nearby Key Largo.
Palm Villas regularly maintains a 99% occupancy rate. Rents range from $474.00 for a 1 bedroom 1 bath to $978.00 for a 4 bedroom 2 bath. Rents are never more than 40% of the families' monthly income (click here for income guidelines). Palm Villas accepts Section 8 vouchers and has units dedicated to households earning 40, 50, and 60% of Area Median Income (AMI). The development is well suited to very small and large families, since it leases efficiencies, one, two, three and four bedroom units.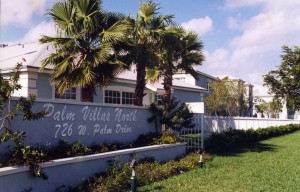 Palm Villas Apartments gladly accepts applications for its waiting list.  For more information please call Isabel Moc at 305-242-0481 or email her at imoc@ccfcfl.org or download your application today.