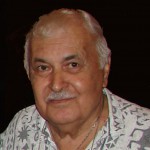 In Memory of Fernando "Chappy" Pro
One of Centro Campesino's founders, Fernando "Chappy" Pro, passed away on Tuesday, July 30, 2013 in Tampa, Florida at the age of 86. Mr. Pro lived a long, rich life which blazed the way for much of what all of us do at Centro Campesino and through our partnerships with many farmworker and other partner organizations. "Chappy" as he was affectionately known to all, was a long-time farmworker activist. Not only was he a founding board member of Centro Campesino and its parent organization OMICA Housing, as well as the Coalition of Florida Farmworker Organizations, he also helped found the Everglades Community Association (ECA).  Chappy's career included time as Director of the South Dade Skills Center for17 years, which provided vocational services to farmworkers and other individuals of low income. In 1996 he was honored with the 4th Annual Lifetime Achievement Award at the National Farmworker Conference. The first recipient was Cesar Chavez.
Chappy remained concerned that despite some changes, the way in which communities and companies view agricultural workers showed a lack of respect, since they were not offered minimum wage, or appropriate safety and health conditions. As a special liaison for many years in the Miami-Dade County Manager's Office he championed these issues. He was not someone to remain silent and always made the time to write letters to many different presidents to stand up for the rights of farmworkers. Throughout his public service career, Chappy dedicated countless hours to organizations addressing the needs of farmworkers.
He was a military veteran of both World War II and the Korean Conflict, serving both in the United States Army Air Corps and United States Air Force. Chappy's motto was, "Give me a fish and I eat for a day. Teach me to fish and I eat for a lifetime." He will always be remembered for his love, hard work and dedication to the farmworker community.