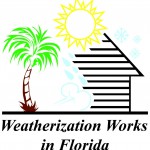 The U.S. Department of Energy's (DOE) Weatherization Assistance Program (WAP) was created in 1976 to assist low-income families whose unweatherized homes consumed high amounts of energy. For over 25 years, CCFC has weatherized/rehabilitated the homes of rural families in Collier, Desoto, Hendry, Highlands, Glades, Okeechobee, Charlotte, and Hardee Counties. Many rural families lack the resources to satisfy all of their basic living needs; much less address urgently needed repairs to their aging houses and mobile homes.
Chris Barraza, CCFC's Manager, Testing/Quality Assurance is one of the most experienced weatherization professionals in the state of Florida. Under his leadership, CCFC has weatherized 5000 homes for rural families. Families of very low-income expend a high percentage (about 17%) of their annual income on utility bills due to their inability to maintain energy efficient homes. Their houses have ill-fitting doors and windows through which heated and cooled air escape, old or nonexistent insulation or weather stripping, poorly operating, out-of-date appliances and air-conditioning systems.This results in in excessive utility bills without providing their families with basic comfort. 

The Weatherization Assistance Program allows CCFC to oversee the weatherization/rehab of homes for eligible families utilizing licensed contractors.  Every effort is made to encourage bids on these projects from contractors within the counties in which the work takes place.  All work is inspected by CCFC and building and code enforcement departments in each county. To obtain information on how to bid on projects please contact Jorge Barrios, Director of Construction Services, at (305) 245-7738 Ext#232 or e-mail him at jbarrios@ccfcfl.org. We are currently serving Hendry, Highlands, Hardee, Glades, Desoto, Lee and Collier counties. Repairs are made at no cost to homeowners or tenants. Program guidelines apply and priority ranking is given to homeowners/renters who are elderly, disabled, have high energy burdens and whose households include children under the age of twelve. CCFC served 1047 households during a 3.5 year period with funding from the American Recovery and Reinvestment Act (ARRA). Anyone wishing to obtain an application for weatherization/rehab services may download it now or contact Nancy Lopez at: 305-245-7738, ext. 236 email inquiries can be sent to nlopez@ccfcfl.org. 
Download your application today:
Application Checklist- English
Weatherization Application- English
Application Checklist- Spanish
Weatherization Application- Spanish
Social Security Collection Form (must submit along with application)
Landlord Verification Form (for renters only)
Self Declaration of Income ( for applicants currently not receiving any source of income )
Tips for saving energy and money at home!