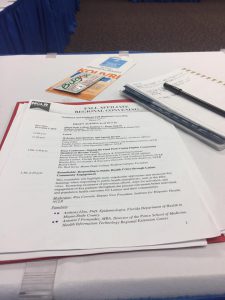 For nearly half a century, the National Council of La Raza (NCLR) has been committed to the advancement of the Hispanic-Latino community. NCLR is the largest Hispanic-Latino civil rights organization and serves the community through a range of policy efforts, nation and state-wide movements, programs, and offers support to its over 300 affiliates. This is an organization who is dedicated to ensuring civil rights for Latinos and Latinas, standing up when injustices are committed, and breaking stereotypes that surround our community.
This year, Centro Campesino attended the Fall Regional Convening.  At the Fall Regional Convening, not only were we challenged to think about what it means to rise above stereotypes and preconceived notions, and ways to protect our communities from financial traps, but we were able to connect with like-minded people. As organizers and advocates, we often get tired. Apart from fighting against oppressive systems, we also have to guard ourselves against burnout and exhaustion. The Fall Convening gave the people in this region the chance to connect and feel less alone. By articulating what fear based narratives have been poisoning our community, we were able to talk about potential strategies we could implement
to shatter those narratives. During a panel discussion, we also thought about what it truly means to work with the community to respond to health crisis situation.
We're excited to take back what we learned at the Convening back to our organizations and get to work! Our future is in our hands.